"Final Fantasy" IP Wins Guiness World Records
Square Enix Recognized for Its 30-Year Old IP in Frankfurt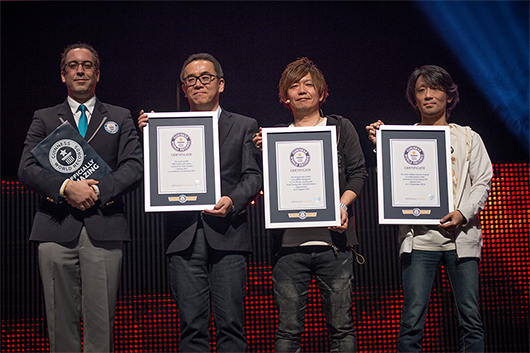 The "Final Fantasy" franchise was awarded three Guiness World Records in Frankfurt.
The three awards included:

Most prolific role playing game series. "Final Fantasy" claims 87 game titles in its franchise.


Longest end credits in an MMO game, which was achieved in "Final Fantasy XIV: A Realm Reborn." The MMO included a list of its original player base from "Final Fantasy Online," the 2010 predecessor to a "Realm Reborn" which flopped.


Most original pieces of music in a videogame (including expansions), which also went to "A Realm Reborn" with 384 original scores.
On behalf of "Final Fantasy" publisher Square Enix, President Yosuke Matsuda accepted the award for most prolific RPG. Naoki Yoshida, producer and director, and Masayoshi Soken, sound director and composer, accepted the awards related to credits and music.
The original "Final Fantasy" title released almost 30 years ago on Dec. 18, 1987 for the original NES. It has since branched out into in different formats and has titles in all three console markets. Square Enix seen explosive success with "Final Fantasy XIV: A Realm Reborn," "which currently boasts a user base of over six million players.
It is testament to both the size and longevity of the "Final Fantasy" franchise that it can break Guinness World Records titles that are broad, eclectic, and landmark as these ones. Stephen Daultrey, Editor of the Guinness World Records Gamer's Edition
"Final Fantasy XIV: Stormblood" releases June 20 this year.
!